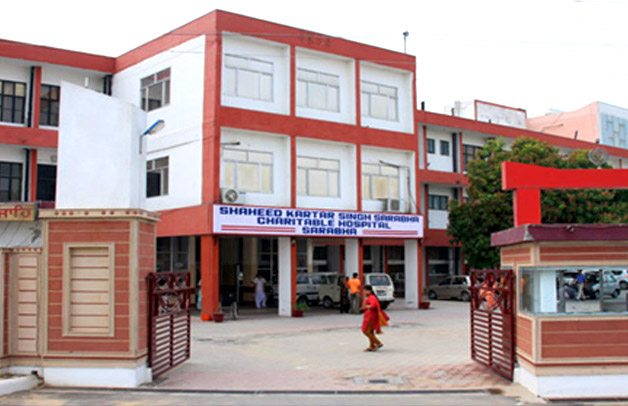 This blossoming institute is located at Ludhiana-Raikot road, just 20 kms from Ludhiana city at village Sarabha, the birth place of the great martyr Kartar Singh Sarabha. It has a beautiful spacious building and eye catching view of landscaping. It is a fine blend of architecture & natural outlook. It has modern equipment, qualified and experienced staff.
The institute came into existence with the sharp vision & tireless efforts of Shaheed Kartar Singh Sarabha Charitable Trust under the dynamic chairmanship of S. Jatinder Singh Grewal. The trust is already running Dental College, Ayurvedic College and a modern (Allopathic) Hospital with 100 bedded of the institute is a multi-speciality health centre with very good infrastructure, well qualified and experienced doctors in its different departments.
After having established this state of art setup, the noble idea to start an institute of Nursing education was conceived because of highly qualified medical and nursing staff in the need of the hour to provide better medical facilities and services to the ailing of people. Moreover there is a great demand of better nursing courses as these open new doors of employment for the girls & make them self- confident. It has been a long standing demand of this area. Bearing this precious idea in the mind, the trust members worked hard and achieved the goal of starting an institute of Nursing Education at Village Sarabha (Ludhiana) in 2006 with the help and contributions of NRI donors and the people of this belt.
AFFILIATION

Alongwith having NOC from Punjab Government, our Institution is recognized by Indian Nursing Council New Delhi & Punjab Nurses Registration Council, Chandigarh and Baba Farid University of Health Sciences.
Five professional courses are being run in this institution.
MASTER OF SCIENCE (M.Sc.) IN NURSING :-

2 years DEGREE COURSE
No. of seats= 10 (5 seats each in Mental Health (Psychiatric) Nursing & Obstetrics & Gynecological Nursing)
BACHELOR OF SCIENCE (B.Sc.) IN NURSING

4 years DEGREE COURSE
NO. of SEATS = 60
B.Sc.(N) Post Basic

2 years DEGREE COURSE.
NO. OF SEATS = 30
GENERAL NURSING AND MIDWIFERY (G.N.M.)

3 YEARS DIPLOMA COURSE
NO. OF SEATS = 60
AUXILIARY NURSING AND MIDWIFERY (A.N.M.)

2 years Diploma Course.
NO. OF SEATS = 30