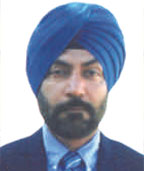 S. Jatinder Singh Grewal
It is a matter of pleasure and pride for me that skss college of nursing is one of the valuable assets of our group of medical institutes.
The institute is located in the village Sarabha, the birth place of Shaheed Kartar Singh Sarabha in district Ludhiana.
It is very much in lap of nature, away from polluted atmosphere of big industrial towns.
Its building is a state of art presentation and has the best of infrastructure, qualified and experienced faculty for teaching and a conducive atmosphere for study prevails around in the campus where the courses of M.Sc. Nursing, B.Sc Nursing, Post Basic B.Sc Nursing and GNM are being run successfully.ANM has also been introduced last year.
The day starts with prayers by all in the religious sanctorum of the campus.
The management committee, the principal, the vice principal, staff and the students are committed and dedicated towards studies. The impact of this hard work is obvious. Every year 6 to 8 positions are acquired by students in the top twelve university exam results, speaks volumes about the prestigious ranking of our nursing college throughout.
We provide world class hostel facilities and hygienic food is provided to the students living in here.
The first three position holders of the college (in university results) are given cash prizes and the needy and deserving students are considered for a concession in fees also.
I wish good luck for the students and urge the worthy people from near and distant places to send students here to get education and achieve the target in their life for the best and bright future.