International Nurses Day with "Theme Closing the Gap from Evidence to action" was celebrated on 07th May 2014.

Teacher's Day was celebrated on 5th Sept 2014

National Nutrition Week, World Alzheimer's Day and World Literacy Day was celebrated on 30th sept 2014

World Mental Health day and autism day was organized on 10th Oct 2014

Fresher's party with theme "AAGAAZ "was celebrated on 29th Nov, 2014.

Lohri function was celebrated on 12th Jan 2015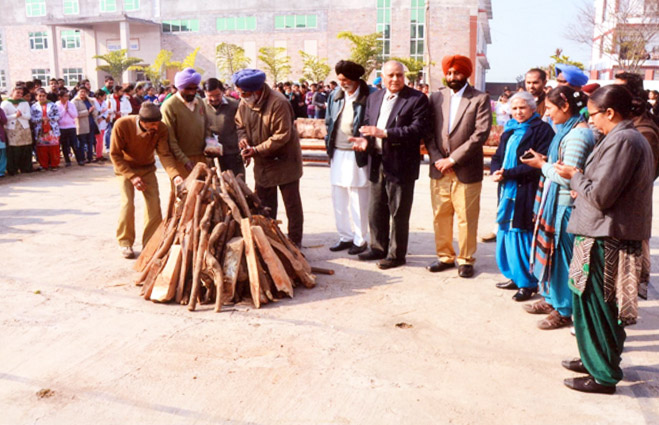 1st Convocation was celebrated on 21st March 2014 and degrees were awarded to M.Sc.(N), B.Sc.(N) and Post Basic B.Sc.(N) outgoing batches.

Poster Exhibition and role play was performed by GNM 3rd year on World Breast feeding week (1-8th Aug, 2017) on theme "Sustaining breast feeding together." Sarpanch of Gujjarwal village appreciated the efforts of students.

TEACHER'S DAY celebrated on 5th September, 2017 at college common Hall. Dance performances and various activities were planned for the teachers by GNM 3rd year students.

Celebration of World Mental Health Day (10th October, 2017) on theme "Mental Health in Workplace". Poster exhibition regarding workplace stress and their management was organized by B.Sc. (N0 3rd Year students and Stress reduction techniques were demonstrated by M.Sc. (N) students.

B.Sc. (N) 2nd year and P.B. B.Sc. (N) 1st year students celebrated World Diabetes Day (14th November, 2017) on theme "Women's right to healthy future". Students displayed charts, models and diet in exhibition at S.K.S.S charitable Hospital, Sarabha, Ludhiana.

World Osteoporosis Day (21st November, 2017) was celebrated on theme "Love your bones- protect your future." Role play and posters were exhibited in S.K.S.S Charitable Hospital, Sarabha, Ludhiana.

XXVII SNA Biennial Punjab State Conference was organized at SKSS Auditorium on 27th Oct, 2017. Dr. (Mrs.) Jasbir Kaur, Principal MMIN, Mullana embraced the occasion. A total of 905 delegates attended the conference. Students participated in different competitions like quiz, rangoli, posters, painting, personality development, talent night, sports, etc. SKSS CON, Sarabha secured first positions in 100m race, posters (in 3 categories) and in talent night (Bhangra).

State level winners (13 students) attended 5 days XXVII SNA Biennial Conference-2017 at Guntur, Andhra Pradesh along with 2 teachers from 29th November-3rd December, 2017. S.K.S.S College of Nursing students maintained their first position in Talent Night.

Fresher's party was organized for the new joining students with theme "WILL KOMMEN" on 9th December, 2017.

A health project was organized by GNM 2nd year students in Govt. Sen. Secondary school at Sarabha village on the Anti-obesity Day (16-12-2017) on theme "Act now & avoid the consequences later

Glimpse of Lohri celebration at SKSS College of Nursing, Sarabha.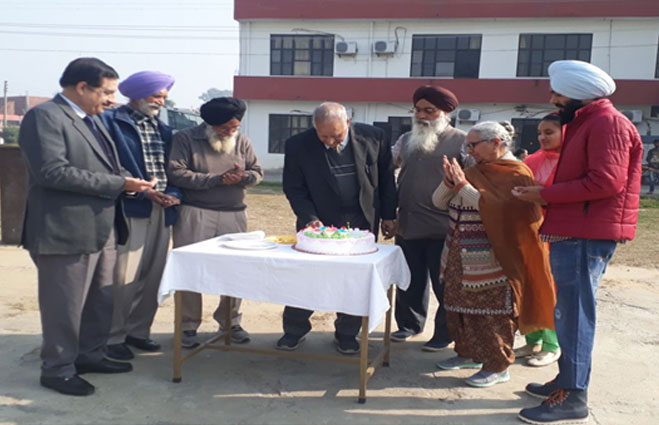 Celebration of Road Safety Day at SKSS Auditorium. Awareness lectures was delivered by A.S.I S. Sukhdev Singh and Poster exhibition and role play was conducted by GNM 2nd year students.

Educational and training session for nursing students and health camp was organized by SKSS,CON, Sarabha in collaboration with William Osler Health System Team from Canada between 22nd – 24th February, 2018.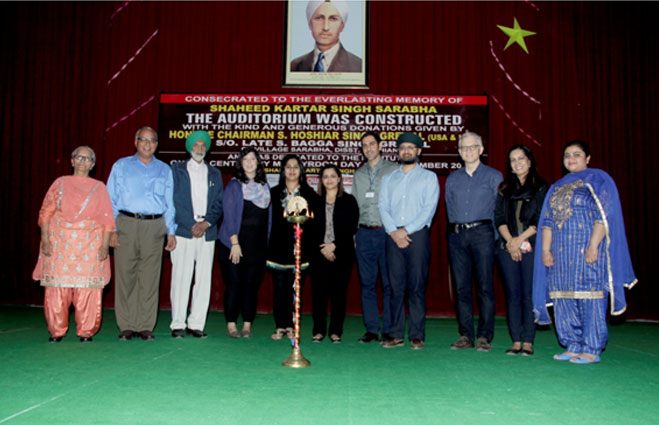 Annual Sports meet-2018 was conducted at Shaheed Kartar Singh Sarabha Stadium from 8th -10th March, 2018.

Workshop and poster exhibition organized by B.Sc. Nursing 3rd year students on World's Cancer day on theme "We Can, I can". Dr. Raman Arora, H.O.D, Deptt. of Oncology, M.D. Oswal hospital embraced the occasion.

Glimpse of the Community visit at Verka milk plant, Ludhiana by students of B.Sc. (N) 2nd year, P.B. B.Sc. (N) 2nd year and G.N.M. 3rd year.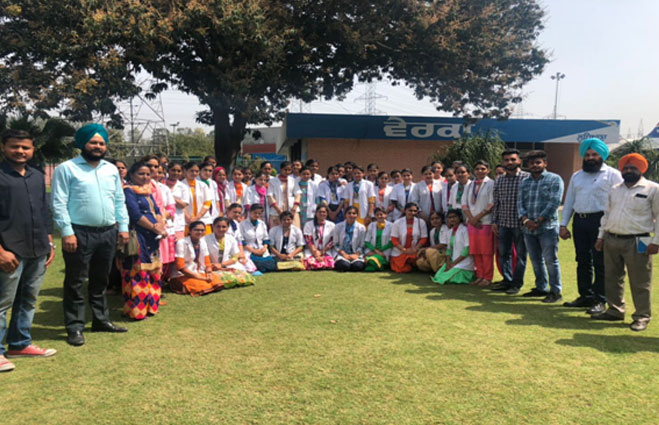 Glimpse of B.Sc. (N) Fourth year nursing students organizing antenatal awareness program during their Obstetrics posting in Civil Hospital Ludhiana.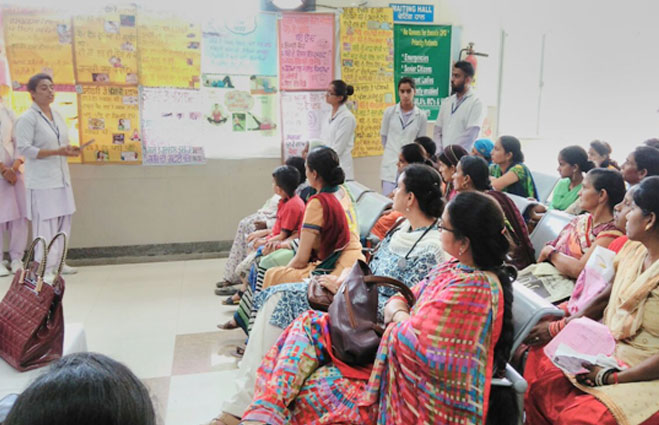 Poster/Rangoli competition organized by Nursing students on World's Health Day.

Glimpse of Vaisakhi celebration in Gurudwara Sahib at SKSS College of Nursing, Sarabha.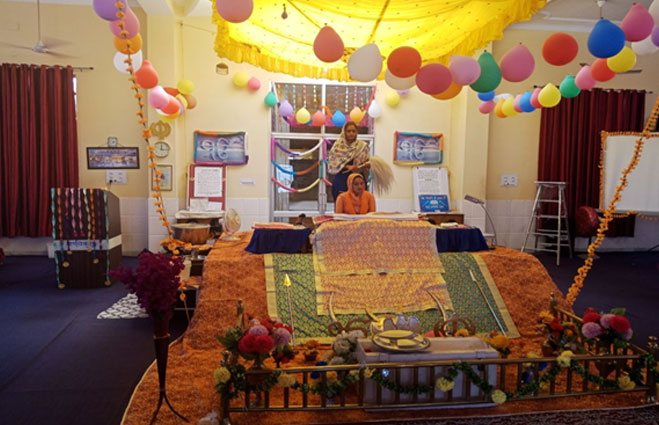 S.K.S.S. College of Nursing, Sarabha, Ludhiana celebrated Fire safety day/week on 17 and 18th April, 2018.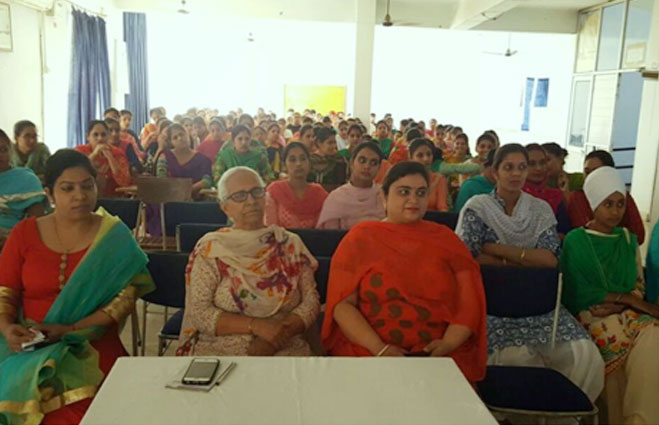 S.K.S.S. College of Nursing, Sarabha, conducted the workshop regarding Systematic Voter's Education and Electoral Participation (SVEEP) on 21st April, 2018.

Nurse's Week – May 2018

NURSE'S DAY celebrated on 12th May 2018 at College Auditorium. Quiz Competition, Mine performances and various activities were planned for the teachers by nursing students.

FAREWELL 2018 organizing on dated 31st May 2018